It's time to show off the goods from the Glitz swap I participated in ....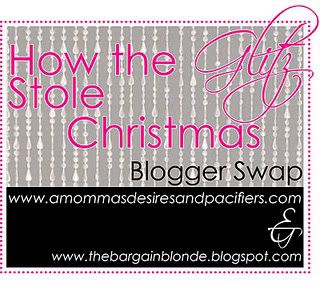 I signed up to be a part of the swap but then couldn't find my name on the list so I gave up until I got an email saying my partner,
Tracey
, was looking for me!
I'm so glad we found each other because I loved picking out little things for her & getting a box full of goodies in the mail was super fun!
I got the box on Saturday which was a pretty crazy day so I ripped it open while driving to babysit
(I know, so safe ... plus this woman and tape?? Obviously a serious relationship. Lawd!)
. Anyway, because of that, I don't have pictures of the items she sent me but I'm gonna tell you about them ....
The first thing I opened was a box filled with brightly colored wrapped, chocolate covered Oreos ... I couldn't post a picture if I wanted to because well, self control isn't my thing.
Next, I opened a beautiful little glass tree ornament. I love, love, love ornaments!
Then, I opened a huge box of gorgeous stationary! I don't know how she knew, but I really needed stationary & the set she sent me is so pretty!
I cant say it was the best because I loved everything but the last thing I opened was some super sparkly blue O.P.I. nailpolish perfect for summer toes and Butler Basketball nails!!
This package was amaze-balls and?? She didn't put some things in so I get ANOTHER ONE!!!
Basically? Tracey is awesome and so was this swap.
Happy Early Christmas, Friends!